All Saints' Church Staplehurst Advent and Christmas 2020 Messages
All Saints' Church Staplehurst Advent and Christmas 2020 Messages.
The message from the Church of England this year is Comfort and Joy. 
The hope is that together Christmas will bring joy and celebration after a uniquely difficult year.
From the Church of England Resources website page
Advent and Christmas messages from members of our community here in Staplehurst and our wider community.
All images below are © Copyright of the originators.
Happy Christmas and Happy New Year.
I miss you a lot.
Hope to see you in the New Year.
From
Ian at Sobell Lodge
Christmas Greetings

From Cllr Marion Ring
Mayor of Maidstone
Dear all
Thank you for your updates throughout the year they have been so helpful and supportive.
I have missed All Saints this year and the choir ….. and of course, the Christmas Music which is always so special.
Nevertheless, despite everything I wish you a very Merry Christmas and best wishes for a Happy New Year!
Kind regards,
Chris Cooper
Wishing you all a peaceful Christmas and a Happy New Year

With love
Petra x
To All Church Friends

With Season's Greetings and Best Wishes for 2021

Anne and David
To everyone at All Saints Church
We hope you are all able to enjoy your Christmas and we wish that 2021 will gradually bring happiness and normality back to your lives. God bless.
Love Sarah and Arthur xxx
Good Tidings of Comfort and Joy
And best wishes for a Healthy and Happy New Year

From Colin and Marion
Dear Silke and all at All Saints, my prayers and thanks for you all
With Best Wishes for Christmas and the New Year.
I'm looking forward to meeting up again sometime in 2021.
God Bless you, Silke, for your ministry among us.

Love from Shirley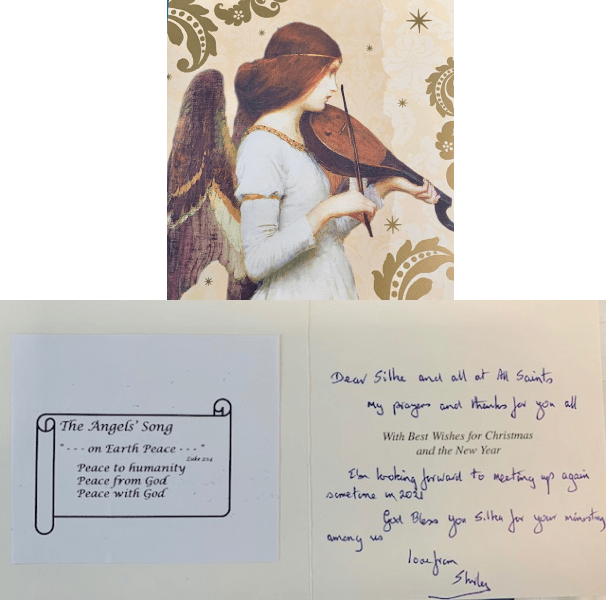 Wishing everyone a happy and blessed Christmas
Sure in our faith that the infant Jesus was born for each one of us.

Monica
Wishing you tidings of Comfort & Joy
Christmas Greetings from Bishop Rose
✟ Rose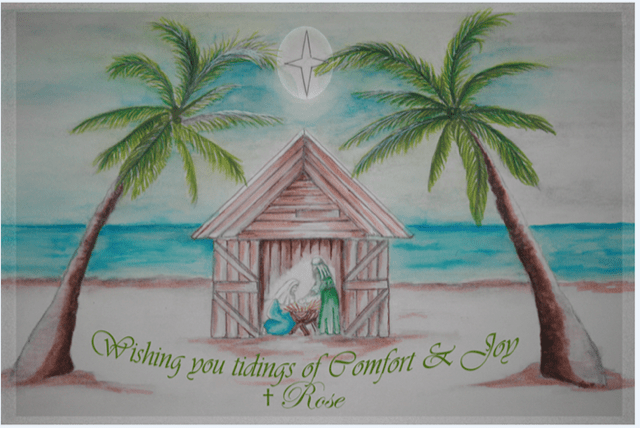 Wishing everyone peace, joy and many blessings this Christmas.
Love from Mary and Tony
DEAR ALL
I PRAY FOR JOY IN OUR HEARTS,
HOPE IN OUR GOD AND
PEACE UPON THE EARTH
WISHING YOU A PEACEFUL & BLESSED CHRISTMAS.

WITH LOVE, SILKE
Wishing all the lovely people at All Saints a joyful festive season.
Lots of Love
John and Sharon xxxx
All good wishes
for a
Happy Christmas
from Audrey

The image is a Lino print from a Linocut produced as part of my 6th form art studies …
Comfort and Joy to you all
With our warmest wishes

from Roger, Linda and Meg! x
Warm Wishes for a Joyous Christmas
During this time of faith and family, may the true meaning of Christmas fill you with Joy. Wishing you a Merry Christmas and a Blessed New Year.
Angie, Rod, Roddy and Camilla
Merry Christmas and a Happy New Year
We wish all our friends at All Saints, the community in Staplehurst and our friends further afield a Happy Christmas and we look forward with hope to a better 2021.

Andrew & Debbie xx